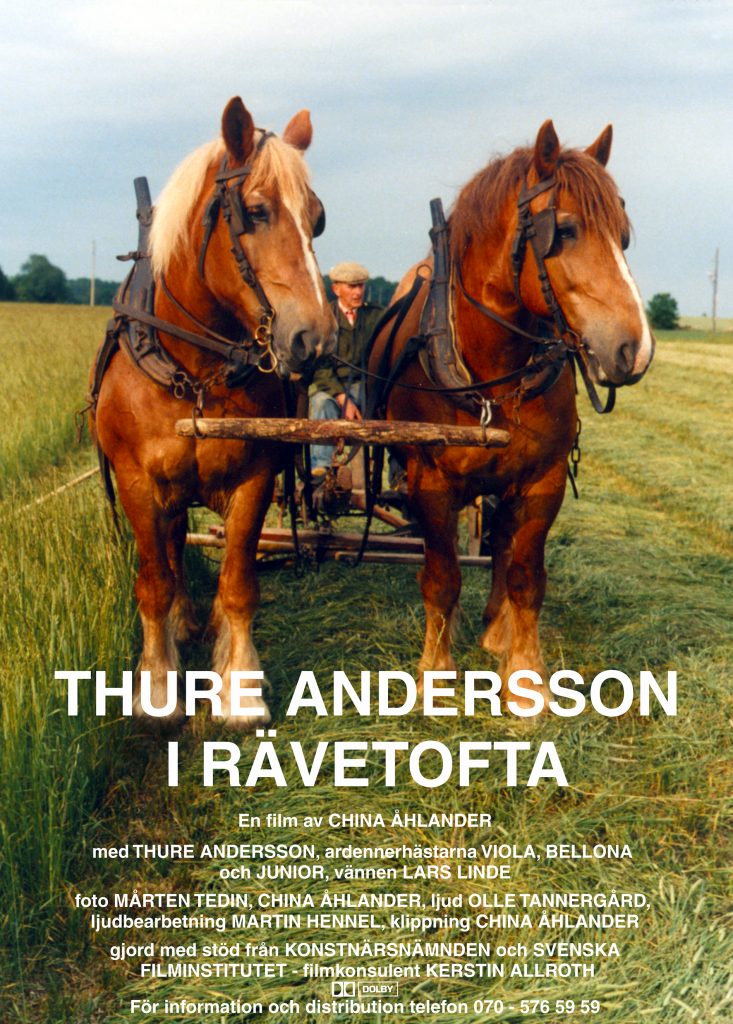 Close to the Soil is a short documentary made by China Åhlander.
Thure was a farmer who never gave in buying a tractor like every other farmer did during the 50-60's. He continued working with his horses and achieved something very unusual thirty years later – the gift of being close to the soil and what that does to your soul.
Farmer Thure Andersson ploughs his land with his horses and has never been interested in buying a tractor. "To be close to the soil, to feel the way it smells, to walk behind the horses – these are pleasant things", says Thure.
"The rythm in Thure's work and way of life fascinates me", says China.
Thure managed to stand the pressure. It takes character to do that. He said that "it's never the same, ploughing with a tractor." "You just don't get that… When you're close to the soil you feel the earth and everything."
AWARDS & NOMINATIONS
Nominated the BEST SWEDISH SHORT 2000 at the Gothenburg Film Festival.
Awarded the BEST DOCUMENTARY at the Aspen Short Film Festival and with the JURY AWARD at the Mountain Film Festival in Telluride, USA.
"We chose a film that handled its subject with an exquisite delicacy. The film is filled with beautiful and expressive imagery which brings its themes of loss and the passage of time to life in a way we found deeply moving."
Aspen Film Festival 2001
"With an economy of words and a power of image, Close to the Soil allows us to reflect on the passage of time and the end of an era."
Mountainfilm in Telluride 2001
Awarded the BEST SHORT AWARD at the Nature Film Festival LIVING EUROPE 2003 in Helsingborg, Sweden.
"A sad, unsentimental and emotional film, which reminds us of countryside skills and talents that are fast disappearing during our own lifetime."
"Ten minutes to soothe your soul."
Film critic Elisabeth Sörenson, SvD 18 Feb 2000 (Swedish newspaper)
Year of production: 2000
Format: 35 mm, 1:1,66, dolby SR
Duration: 10 min
Subtitles: English, Swedish